Entrepreneurial Development-himalaya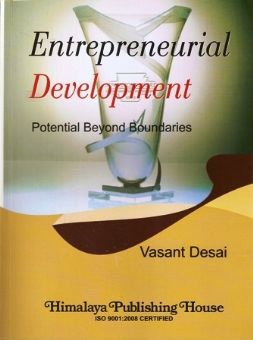 Entrepreneurial Development-himalaya
Entrepreneurship has come of age in India. While passionate entrepreneurs have always created successes, the enablers now available in the form of capital, ready talent, and fast growing markets, are making entrepreneurship the aspiration of a wide variety of people. Hence, entrepreneurial development is in the forefront of discussion and learning.
The success of India`s liberalization and opening up has been built by individual entrepreneurs and companies, which have grown at a dazzling pace. Of course Government`s role in huge infrastructure investments cannot be underestimated either. From this heady churn, a number of new entrepreneurs have emerged to join the big boys. And this is not confined to only the big cities.
The Purpose of this book is to describe the essential features of an entrepreneur and entrepreneurship to provide a sense of direction for planners and policymakers, on the one end, and the emerging crop of young entrepreneurs, both men and women, educated, uneducated, professional and non- professional, to reap immense benefits and decide the feature course of action, on the other hand. In fact this book is not a fresh beginning. Nor is it the last word. Subsequent studies will elaborate on many of the issues raised here.
The study can be read by any one interested in economic revitalization, rapid industrialization, growth and development of an area, economic planners, big and small entrepreneurs, bankers, industrialists, members of chamber of commerce and industry and every concerned citizen, who is an entrepreneur at heart. It is hoped that the book will stimulate entrepreneurs to actively participate in the economic growth of the country. It serves as a tool kit to all entrepreneurs with a new vision and a new insight.
Outline of the Book
The study consists of Thirty Two Chapters grouped into four units:
Unit I discusses the concept of entrepreneurs, entrepreneurship, characteristics of entrepreneurial types, qualities and functions, traits, types, role and importance of entrepreneurs in economic growth.
Unit II dwells on theories of entrepreneurship, entrepreneurial development programmes, objectives and the government policies.
Unit III examines in-depth the entrepreneurial behavior, motivation, management process and success. This apart, it also, it also discusses innovation and systems.
Unit IV assesses business ideas, their source and process, finance, working capital, seed capital, technical assistance, marketing, feasibility report, legal formalities, sickness and remedial measures. It also includes success stories of importance.
Contents :
1. Introduction
Unit I: The Concept
2. The Concept
3. Characteristics of Entrepreneurial Types
4. Qualities and Functions of Entrepreneurs
5. Entrepreneurial Traits
6. Types of Entrepreneurs
7. Women Entrepreneurs
8. Role and Importance of Entrepreneurs in Economic Growth
Unit II: Entrepreneurship Theories and Development
9. Theories of Entrepreneurship
10. Entrepreneurial Development Programmes
11. EDP Objectives
12. Selection of Centres by Target Groups
13. Promotional Policies and Strategies for small Scale Industries in India
14. Entrepreneurial Inputs
Unit III: Motivation and Behaviour
15. Entrepreneurial Behaviour and Motivation
16. Achievement and Management Success
17. Entrepreneurial Success in Rural Areas
18. Innovation and Entrepreneur
19. Establishing Entrepreneurial System
Unit IV: Search for Ideas
20. Search for Business Ideas
21. Sources of Ideas
22. Idea Processing
23. Input Requirements
24. Criteria of Financing
25. Fixed and Working Capital Assessment
26. Technical Assistance
27. Marketing Assistance
28. Sickness and Remedial Assistance
29. Preparation of Feasibility Reports
30. Legal Formalities and Documentation
31. Managing Tomorrow
32. Development of Small- Scale Enterprises
Reviews