Goal, Butterfingers! Author: Khyrunnisa.A-penguin india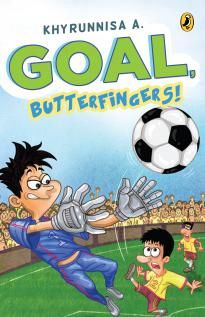 Goal, Butterfingers! Author: Khyrunnisa.A-penguin india
Butterfingers is back, and ready to strike!

Amar Kishen or Butterfingers, as he is popularly called, has a penchant for dropping things—he can send books, bags, balls, even people flying just by touching them!

Obsessed with football, Amar comes up with a brilliant plan—a school football tournament where each class will play as a different 'country'. But like all Butterfingers plans, this too is doomed to run into obstacles. First there are more girls in school (meaning, more trouble!), then the new English teacher, Sourpuss, puts a stop to football practice; to top it all, when Amar and his friends participate in a protest rally, trying to prevent a pesticide factory from coming up, their Princi hands out match bans.

With things hitting rock bottom, will Amar's class finally lift the 'World Cup'? And with Butterfingers as the goalie, does his team really have a chance? Full of action and adventure, Goal, Butterfingers!, the second book in the Butterfingers series, will make you lose yourself in the hilarious exploits of Amar and his friends as they hurtle through various hare-brained schemes.
Reviews