MODERN PHYSICS: FOR B.SC./M.SC. STUDENTS, 17/e R MURUGESHAN & ER. KIRUTHIGA SIVAPRASATH-S.CHAND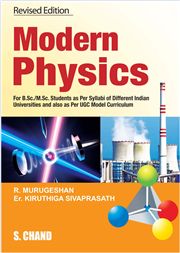 MODERN PHYSICS: FOR B.SC./M.SC. STUDENTS, 17/e R MURUGESHAN & ER. KIRUTHIGA SIVAPRASATH-S.CHAND
This book is designed for the students of B.Sc. and M.Sc.
• It is based on the syllabi of different Indian Universities as well as on the UGC model curriculum.
• The book provides a complete and comprehensive coverage of the topics.
• The subject matter is divided into eleven parts.
• It is written in a simple and lucid language.
• Easy-to-understand treatment of most difficult and intricate topics.
Reviews