Total Quality Management-himalaya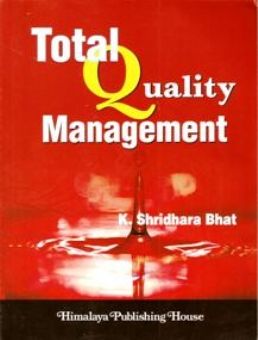 Total Quality Management-himalaya
The challenge for business today is to produce quality products or services efficiently and in a cost effective manner. The globalisation of business has further enhanced the importance of quality in the competitive business environment. Quality has become the most important factor in the long-term profitability and success of any business organisation. Quality has become a major marketing and competitive weapon.
Managing quality and offering value to the customer is still a major concern for many firms all over the world. Quality management is concerned with the understanding of the principles of total quality that allows an organisation to become more effective and competitive in its performance characteristics viz., cost efficiency, quality, dependability and flexibility.
Since the early 1980`s, organisations started a new approach to managing quality which has come to be known as total quality management. The focus has shifted to the quality of managing all the areas of operation throughout an organisation`s "quality value chain" in order to have a favorable impact on over-all effectiveness of the organisation. Japanese firms were in the forefront in implementing this total quality approach through continuous improvement of the quality of their products, services, people, processes and environments.
Today, people talk much less about total quality management (QM), however, they practice it, applying its concepts and principles to their work. TQM has become a way of thinking, of being and of doing that does not really need to be called anything. TQM has simply become a way of doing business.
This book titled "Total Quality Management" comprises 11 chapters which concisely present the various topics relevant to management of quality in organisations - both manufacturing and service. The study of this book helps students of MBA programs to acquire the basic understanding of the general principles, tools and techniques of total quality management. Even though this book is specifically written as per the syllabus of MBA program of Osmania University, Andhra Pradesh, it may be found useful to the students of business management program of any other university in India.
Contents :
Chapter 1 : Introduction to Quality Management
Chapter 2 : Organising for Quality Systems
Chapter 3 : Tools of TQM − Measurement Tools
Chapter 4 : Tools of TQM − Analytical Tools
Chapter 5 : Tools of TQM − Improvement Tools and Techniques
Chapter 6 : Tools of TQM − Control Tools
Chapter 7 : Quantitative Techniques of TQM
Chapter 8 : Qualitative Techniques of TQM
Chapter 9 : Techniques of TQM − Taguchi Methods
Chapter 10 : Six-Sigma Quality
Chapter 11 : Total Quality Management in Services
Reviews