A Textbook of Automobile Engineering- S K Gupta-S.CHAND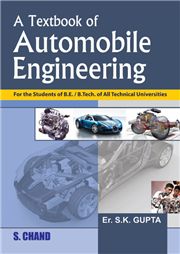 A Textbook of Automobile Engineering- S K Gupta-S.CHAND
Provides detailed information about working of different systems of automobile along with new technologies.
Each chapter explains the details of each system along with its components.
A large number of illustrations and tables are provided, which will help inunderstanding the text.
The book will also be a valuable source of information and reference for competitive exams, interviews and working professionals.
At the end of each chapter, Exercises, Questions and Objective Type Questions have been given to make this treatise a complete comprehensive book on the subject.
Reviews