A Textbook of Chemistry, 1/e Dr. R.L. Madan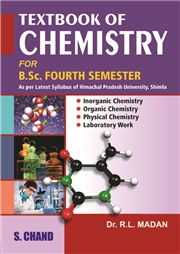 A Textbook of Chemistry, 1/e Dr. R.L. Madan
Key Features:
Written in easy-to-understand language.
No superfluous matter is given.
Provides a large number of examples,illustrations and analogies from daily life to make the reading interesting and understandable.
Gives important laws,concepts and principles either in italics or bold type to focus on them.
Incorporates a number of solved problems asked in the examination papers for the benefit of students.
Includes questions based on the latest pattern of examination.
Gives some interesting pictures connected with the topics and 'applying chemistry to life' to make reading interesting.
Reviews