A TEXTBOOK OF MACHINE DRAWING: SINGLE COLOUR LOW PRICED EDITION ER. R.K. DHAWAN-S.CHAND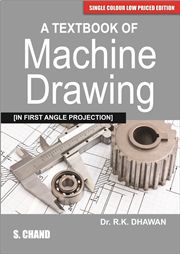 A TEXTBOOK OF MACHINE DRAWING: SINGLE COLOUR LOW PRICED EDITION ER. R.K. DHAWAN-S.CHAND
Intended for the students of B.E./B.Tech. of different Technological Universities of India. Also useful for the students of ITI and CTI.
• Written as per the new syllabi of different universities.
• In accordance with the Bureau of Indian Standards (B.I.S.) SP: 46-1988 and IS: 696-1972.
• Simple and lucid language with systematic development of subject matter.
• More than 2500 illustrations with proper explanations.
• Numerous solved problems, questions for self-examination and problem for practice are also given.
• Model Test Papers are given at the end for practice.
Reviews