Applied Mechanics,- 14/e N. KHURMI & R. S. KHURMI-S.CHAND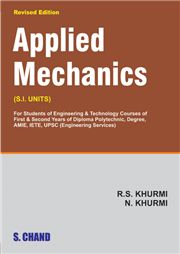 Applied Mechanics,- 14/e N. KHURMI & R. S. KHURMI-S.CHAND
This book is in S.I. units and adheres to the latest trend of examinations.
Theory articles are given in a logical sequence to provide the conceptual understanding of the subject.
Lucid presentation of theorems, hypotheses, formulae and working equations.
Solved numerical examples collected from examination papers of various Indian and International universities as well as other examining bodies have been included after being graded in a systematic manner.
Unsolved numerical examples with answers have been given for practice.
Diagrams are given to support the theory and for quick understanding.
Photographs are given to correlate subject theory with practical reality.
Also included questions asked in university examinations with solutions.
This book is designed for the students of Engineering Diploma, Degree, AMIE and IETE. Besides, it would also be useful to the aspirants of Engineering Services.
Reviews