Business Correspondence-himalaya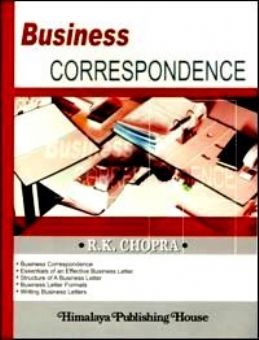 Business Correspondence-himalaya
Researches have revealed that about one-tenths of a manager`s time is spent in communicating,one way or the other. That is why Modern Management Education stresses the importance of communication -oral as well as written.The Book,"Business Correspondence",therefore,is of great importance in the context of utilitarian usefulness for the professionals as managers as well as students and teachers of the subject.The Book presents the voluminous subject in a very simple,brief yet innovative way foor complete learning experience of the reader.
Salient features of the book are :
Chapter on `Essentials of Business Letter`,`Structure of a Business Letter`,and `Business Letter Formats` prepare the reader in understanding all aspects of business letters in theoretical detail.
The Book provide a large number of pre-written letters on most,common business topics in an alphabetical order.
The Book offers the glimpse of complete letters containing all the elements of a good business letter.
The Book encourages the reader to put his imagination,mental ability and knowledge of English language in practice in writting of business letters.
`Quick tips for writting letters` on different topics/situations serve as guidelines for writing business letters on any and every conceivable situation.
University examination questions till the end of the year 2009 help the students in understanding the level of questions asked to help them prepare accordingly.
Book Content of Business Correspondence
Business Correspondence
Essential of an Effective Business Letter
Structure of A Business Letter
Business Letter Formats
Writing Business Letters
Appendices
Appendix I :Business Jargon Simplified
Appendix II :French and Latin words and expressions used in Business Correspondence
Appendix III :English Synonyms
Appendix IV :English Antonyms
Appendix V :English Words Commonly Mis-spelt
Appendix VI :Avoid Negative Words and Words with Negative Connotations
Appendix VII :How to Organise Positive and Informative Message?
Appendix VIII :Body Language:The Truth about Liars
Reviews