Capital Market Management-himalaya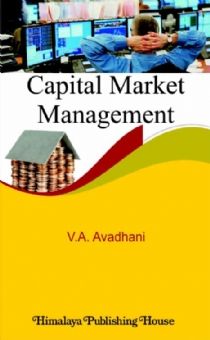 Capital Market Management-himalaya
Over the past decade, there has been a rapid growth of non-bank financial services in India. After the passage of Banking Regulation Amendment Act of 1983, the public sector merchant banks, mutual funds, lease and hire purchase finance companies and many more finance companies have cropped up. After the recent reforms since July 1991, floodgates are opened for private sector in India and foreign financial institutions to operate in the Indian financial markets, with the result that capital market started humming with activity.
These non-bank financial institutions are finding it difficult to secure the expert manpower to manage their services. The subject of capital market and management of financial services in the capital market have become matters of vital importance to the economy. It is in this context that the finance and management students have sought avenues of securing expertise in capital market management. As a beginning, a competent book on the subject is what is called for. It is this gap that the present book seeks to fill.
This book "Capital Market Management" is the first of its kind and deals with the management functions of all financial institutions in the capital market. It provides a vast background material on new issues market, stock market, money market, Government securities market, etc., and activities and institutions in these markets. The intermediaries in them namely brokers, underwriters, merchant bankers, registrars, portfolio managers, etc., are dealt with in detail. The practical and operational aspects including finance and accounting aspects are covered. Being a path breaking book, it is bound to have some lacuna which will be filled in as experience is gained in this area of finance. This book should prove useful to students of both finance and management.
Contents :
PART I - MANAGEMENT AND FINANCIAL SERVICES
1. Management Theory and Financial Services
2. Capital Market Management
3. Financial Services and Management
4. Growth of Non-bank Financial Services
5. Lease, Hire Purchase and Housing Finance
6. Economy and Capital Market
PART II - MONEY MARKET MANAGEMENT
7. Cash Management
8. Credit Management
9. Management of Money Market
10. Management of Government Securities Market
PART III - PRIMARY MARKET MANAGEMENT
11. Capital Issues and Listing
12. Management of New Issues
13. Problems of New Issues Market
14. Merchant Banking Management
15. Management of Issue Houses
PART IV - SECONDARY MARKET MANAGEMENT
Management of Stock Exchanges
16. Stock Exchanges - Emerging Role
17. Management of Broker Firms
18. Activity and Recording of Broker Accounts
19. Options Trading
PART V - INVESTMENT AND PORTFOLIO MANAGEMENT
20. Investment Management
21. Financial Analysis of Companies
22. Fundamental Analysis of Market
23. Basics of Portfolio Management
24. Management of Mutual Funds
Epilogue
Bibliography
Reviews