Channel Management and Retail Marketing-himalaya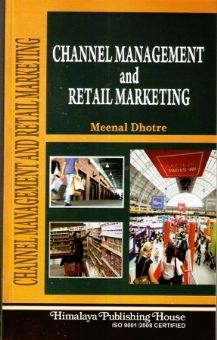 Channel Management and Retail Marketing-himalaya
Separate section dedicated to `Physical Distribution and Channel Management` and `Retail Marketing Management`.
Exhaustive glossary to help quick understanding of the important terms at a glance.
Emphasis on Indian example and reference for easier understanding and better conceptual clarity.
Extensive discussions on upcoming trends and contemporary concepts in retailing for example, on-store retailing formats such as Vending Machines, Online Retailing (Retailing), etc.
Included additional reading, cases in some chapters as the additional information.
Covers the syllabi of money Diploma and Master Courses at various Universities.
Contents :
SECTION I Physical Distribution and Channel Management
1. Marketing Channels
2. Physical Distribution Management
3. Wholesalers
4. Retailers
5. Franchising
6. Managing Marketing Channels and Channel for Conflicts
7. Channels for Consumer Goods, Industrial Goods and Services
8. Multi Level Marketing (MLM)
9. Overview of Supply Chain Management
SECTION II Retail Marketing Management
10. Types of Retailers
11. Supermarkets-Departments Stores Chain Store Management
12. Store Layout
13. Retail Merchandising and Shop Displays
14. Retail Advertising and Sales Promotion
15. On-Line Retailing
16. Changing Face of Retailing
17. Retailing in India
ANNEXURE
I. Wheel of Retailing
II. Popular Non-store Retailing Format: Vending Machine
III. Glossary
Reviews