Company Valuation: Measurement and Management-himalaya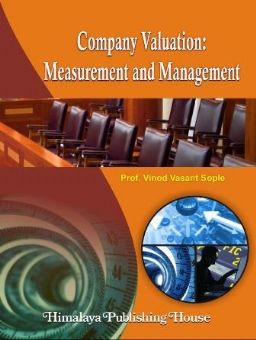 Company Valuation: Measurement and Management-himalaya
Business Valuation` is an interesting subject for students of finance having interest in business analysis and valuation. The business valuation analysis is done for variety of purposes. It may be required for taxation winding up operations, spin-offs, M&A. The business valuation is done for decision making at strategic level. This book is designed for curriculum on `Business Analysis and Valuation` taught at graduation/post graduation level − B.Com / M.Com. in commerce stream in Indian Universities and in B-Schools in finance specialisation at MBA, MMS or PGDM level. This book provides the most comprehensive analysis of a business valuation approaches and methodologies. This book covers the following:
Introduction to the concept of business valuation;
Understanding of business valuation process;
Overview and importance of the existing business valuation models;
Prevailing business valuation techniques, with pros and cons;
Valuation of assets (tangible and intangible) and liabilities (apparent or contingent);
Concept application in real − life situations, with illustrations / examples;
The Structure of the book is such that the book can provide vital insights into the key issues in business valuation. It also brings out the complexities involved in business valuation and the challenges there of. The concepts in the subject are supported with the illustrations wherever necessary in its entirety. This is an introductory course on business valuation, and therefore, the student is well advised to look at this as a beginning of a long interesting journey and not an end.
Contents :
1. Business Valuation Basics
2. Discounted Cash Flow Valuation
3. Relative Valuation − `Ratio Analysis`
4. Private Company Valuation
5. Security Valuation
6. Option Price Valuation
7. Valuation in Mergers and Acquisitions
8. Valuation of Intangible Assets
9. Value Enhancement : DCF, EVA and CFROI
10. Business Valuation Standards Glossary
Annexures
Reviews