Contemporary Issues in Commerce-himalaya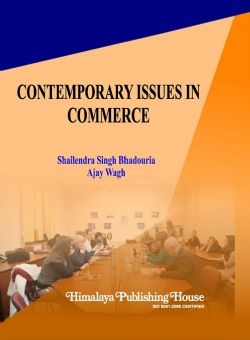 Contemporary Issues in Commerce-himalaya
In this Globalised era, transformation of Trade and Commerce has gained enormous attention, as it is expected to draw beneficial outcomes from this activity. Business, Trade and Commerce has come off far from its traditional forms. The nature and ways of operating trade and commercial activities have been drastically revamped for its success in the Global Markets.
Liberalized Economy has introduced 'Consumerism' as the vital element for success of business and linked this with the Service-Delivery and Satisfaction Concept. This wave of Consumerism has created new Hallmarks to be adopted by Business Houses as Standards and Benchmarks.
This compendium will certainly serve and help strategists, Entrepreneurs, Business Organizations, Academicians and researchers as an experience of Life Time towards understanding of intricate problems of Trade and Commerce.
Contents :
1. Impacts of Stock Splitting on Volatility and Returns: A Study of Indian Stock Market
- Palash Bairagi and Dr. Anindita Chakraborty
2. Impact of Sensex and Mutual Fund Investments on Investment Decisions of Foreign Institutional Investors in India: An Analysis
- Tanu Agarwal and Satyendra P. Singh
3. Genesis and Developments of Corporate Governance Practices in India
- Satish K. Mittal and Deepa Shrivastava
4. Impact of Stress on Employee Turnover with Special Reference to JK Tyre Limited
- Mrs. Huma Khan and Dr. Harish Kumar Agarwal
5. A Study of Consumer Impulse Buying Behavior in Local Markets
- Lilesh Gautam and Prof. Umesh Holani
6. Service Marketing Triangle and GAP Model in Hospital Industry
- Mr. Ankit Gupta and Dr. R.C. Gupta
7. Impact of Emotional Intelligence on Team Effectiveness among IT Professionals of Indore
- Ruchi Kashyap (Mehra) and Dr. Sanjeev Gupta
8. An Analytical Study of Indian Private Sector Banks through CAMEL Approach
- Ms. Harsha Bhiryani and Dr. Pradeep Kumar Gupta
9. A Study of Customer Satisfaction on the Services provided by LIC of India
- Dr. Shilpi Singh Bhadouria and Dr. Pankaj Sharma
10. e-Banking Security – Issues, Opportunities and Challenges in India
- Dr. Hemant Kumar Dubey and Dr. Krishnakant Upadhyay
11. A Camel Model Analysis of Nationalized Banks in India
- Ms. Surbhi Tiwari and Dr. Kavita Gupta
12. Towards a New Global Society
- Dharmpal Singh
Reviews