DESIGN OF STEEL STRUCTURES Dr. P.Dayaratnam-S.CHAND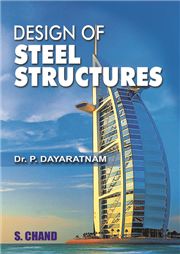 DESIGN OF STEEL STRUCTURES Dr. P.Dayaratnam-S.CHAND
Systematic stepwise presentation of the design methods in System International units.
Latest Codes of Practise including those under final draft stage in 1989 are incorporated.
Design Loads such as live,wind and snow play an important role in the economy and structural safety.
Detailed illustrative examples of real life problems are solved.
Detailing, cost economics and indepth parametric influences are explained through numerous drawings.
The appendices give very useful information for quick design.
Reviews