E-commerce (Concepts, Models, Strategies)-himalaya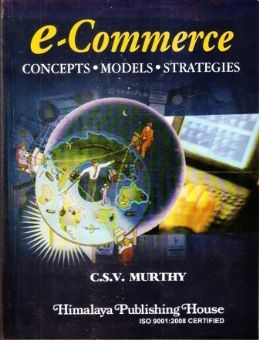 E-commerce (Concepts, Models, Strategies)-himalaya
This comprehensive text deals with the core concepts, models, and strategies of electronic commerce. With the exponential growth of the Internet and the unlimited potential of creating new business ventures, quicker service, and astounding financial gain potential, it would be beneficial to know about e-commerce and hence this is the book for you.
This book will help you to : -
- Make your company e-commerce ready.
- Understand the e-commerce revolution and the role of the Internet.
- Build your own virtual corporation.
- Valuable tips for avoiding common pitfalls.
- Simple explanations on all the aspects that make up a profitable e-business.
- Get to grips with the new technology.
- Develop new business-to-business strategies.
- Easy to follow instructions for the new to do business on the Internet.
- To get an insight about the potential of Indian Industries to compete in the world market.
Contents :
Part-A
Chapter 1 Managing Electronic Commerce
Chapter 2 Overview of Electronic Commerce
Chapter 3 Driving the Electronic Commerce Revolution
Part-B
Chapter 4 The Internet
Chapter 5 Portals
Chapter 6 Open Systems Inter Connection (OSI) Model
Chapter 7 XML
Chapter 8 Data Warehousing
Chapter 9 Building Own Web Site
Chapter 10 Internet Security
Part-C
Chapter 11 E-Commerce and Internet
Chapter 12 Electronic Market
Chapter 13 Electronic Business
Chapter 14 Business to Business E-Commerce
Chapter 15 Business Models
Chapter 16 Four C`s (Convergence, Collaborative Computing, Content Management and Call Center)
Chapter 17 Wireless Application Protocol (WAP)
Part-D
Chapter 18 Intranet and Extranets
Chapter 19 Supply Chain Management (SCM)
Chapter 20 Data Interchange (EDI)
Part-E
Chapter 21 Electronic Payment Systems
Chapter 22 E-Security
Part-F
Chapter 23 Customer Relationship Management
Chapter 24 Knowledge Management
Chapter 25 Views of the IT Industry
Reviews