ENGINEERING CHEMISTRY - II (ANNA UNIVERSITY), 1/e M V SURESH & P ANILKUMAR-S.CHAND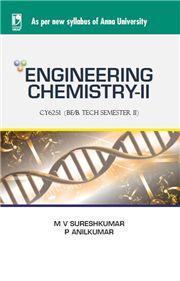 ENGINEERING CHEMISTRY - II (ANNA UNIVERSITY), 1/e M V SURESH & P ANILKUMAR-S.CHAND
Water Technology
• Electrochemistry
• Corrosion and its Control
• Energy Sources
• Batteries and Fuel Cells
• Abrasives and Refractories
• Portland Cement and Glasses
• Fuels
• Combustion of Fuels
• Specifically designed for I year B.E. students of colleges affiliated to Anna University, Chennai.
• The chapters are presented in simple language.
• Suitable diagrams for clear understanding of the concepts.
• The recent developments in the respective fields are included in all the chapters.
• Comparative tables are presented where ever two similar concepts arise.
• Many solved problems.
• Review questions from previous Anna University examinations at the end of each chapter.
Reviews