Export Management-himalaya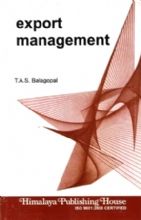 Export Management-himalaya
A remarkable book which has universal acclaim in the field of export management in India, this updated revised edition covers a much wider field and has incorporated the latest developments.
As this edition goes to the press, a global financial crisis has erupted, affecting the economy and exports of all nations. A separate chapter on the crisis, and how it would affect India has been included in the book.
India has crossed the landmark of $150 billion in exports, and faces a keenly competitive international market. The need of the hour is, old concepts and antiquated methods must give way to professional management in export trade.
The book covers the entries gamut of world trade, economy, and in particular the changes in policy and development in India. Apart from the regular chapters on marketing, management, finance, procedures etc., the book also contains a chapter on India`s exports potential and a new chapter on the global financial crisis and its effect on India. It is thus a comprehensive guide to all aspects of export trade management. Despite the complexity of the subject, it is written a simple lucid style which makes it highly readable.
Dr. A.P.J. Abdul Kalam in his foreword says "I am happy that this book of Shri Balagopal has been enriched by inclusion of a chapter on "India`s Export Potentuial". He has taken our present core strengths and future possibilities of a determined nation, and has shown sector by sector, how we are capable of achieving and export trade target by the year 2020, in line with the growth of the Indian GDP."
The author feels, that in spite of the present crisis we can still achiever our goal in 2020, if government takes quick proactive decisions to help exports and industry withstand the severe onslaught of the present financial crisis.
Contents :
1. International Trade, Economy and Exports
2. India`s Export Trade
3. India`s Export Potential
4. Global Financial Crisis & Consequences
5. International Marketing
6. Export Management
7. Export Policy, Promotion and Regulations
8. Export Pricing and Costing
9. Export Finance
10. Export Procedures
11. Countertrade
Reviews