Industrial Marketing Text and Cases-himalaya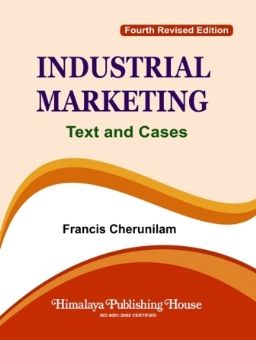 Industrial Marketing Text and Cases-himalaya
Industrial Marketing, also known by such names as Business Marketing, Business to Business Marketing, Organisational Marketing, etc., is growing in importance and popularity. However, there is a dearth of literature on this subject, particularity in India. This book fills this void to a considerable extent. The book is comprehensive, concise and lucid and has a number of illustrative diagrams and tables which make recapitulation and presentation easy for the students.
The book also contains a number of Cases-very small to medium size, a discussion of which will help get more into and practical orientation to the subjects.
This book covers the syllabi of the Industrial Marketing of the Management and Commerce courses prescribed by the UGC Model Curriculum.
Book Content of Industrial Marketing Text and Cases
1. An overview of Industrial Marketing
2. Comparison Between Business and Consumer Market/Marketing
(Characteristics of Industrial Market / Marketing)
3. Demand for Industrial Gods
4. Industrial Buying and Buying Behaviour
5. Partnering / Relationship Marketing and CRM
6. Industrial Market Segmentation, Targeting and Positioning
7. Industrial Product Decision
8. Industrial Pricing
9. Industrial Marketing Communication
10. Personal Selling
11. Industrial Business Marketing Logistics
12. Industrial Marketing Information System
13. Services Marketing
14. E-Business
15. Strategic Marketing Planning and Control
16. International Industrial Marketing
17. Cases
Reviews