Innovation Management-himalaya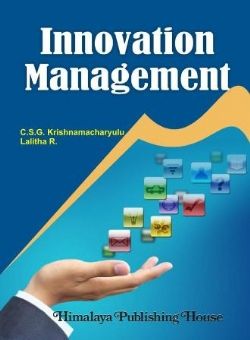 Innovation Management-himalaya
The book is an outcome of our interest in the subject as teachers and trainers for the last five years. The present text meets the requirements of both students and executives by supplying knowledge and skill inputs required for strategizing innovation and tools and techniques essential for employee creativity.
The book contains 23 chapters, organized into six parts.
Part-I introduces management and examines its relationship with the emerging environment.
Part-II discusses the strategy dimensions of innovation management covering structure, leadership, climate and cultural aspects.
Part-III elaborates the operational issues of innovation functions and projects.
Part-IV focuses on innovation skill development of employees.
Part-V presents a wide array of creativity techniques useful for individuals and groups.
Part-VI explains managerial aspects of product and process innovations, their diffusion and protection. It also explores the path of progress of India as an innovative nation.
The attractive features of the book are:
Simple, objective and lucid presentation of knowledge.
Clear explanation of tools and techniques.
Chapter beginning quotes or stories that interest in the subject.
Chapter-end summaries for a quick understanding of essential concepts and issues.
Chapter-end questions and exercises for reinforcing knowledge through tests and practical applications.
Chapter-end cases for improving analytical and evaluative thinking in varied situations.
A comprehensive glossary providing explanation of key terms for ready reference and recall of concepts.
Contents :
PART-I: INNOVATION FUNCTION
Chapter 1 Innovation and Creativity
Chapter 2 Innovation Management
Chapter 3 Functions of Innovation Management
PART-II: PLANNING FOR INNOVATION
Chapter 4 Innovation Environment
Chapter 5 Innovation Opportunities
Chapter 6 Strategizing Innovation
PART-III: ORGANISING FOR INNOVATION
Chapter 7 Innovative Organization Structures
Chapter 8 Making Organizations Creative
PART-IV: MANAGING INNOVAChapter 9 Research & Development Management
Chapter 10 Innovation Project Management
PART-V: MANAGING CREATIVE PEOPLE
Chapter 11 Individual Creativity
Chapter 12 Group Creativity
Chapter 13 Managing Creative Employees
Chapter 14 Creativity Training
PART-VI: CREATIVITY PROCESSES AND TECHNIQUES
Chapter 15 Creative Thinking
Chapter 16 Directed Creativity
Chapter 17 Individual Creativity Techniques
Chapter 18 Group Creativity Techniques
PART-VII: MANAGING INNOVATIONS
Chapter 19 Product Innovations
Chapter 20 Process Innovations
Chapter 21 Innovation Diffusion
Chapter 22 Legal Aspects of Innovation
PART-VIII: INNOVATIVE SOCIETY
Chapter 23 Innovation and Entrepreneurship
Chapter 24 Towards Innovative Society
References
Bibliography
Reviews