International Business (Text and Cases)-himalaya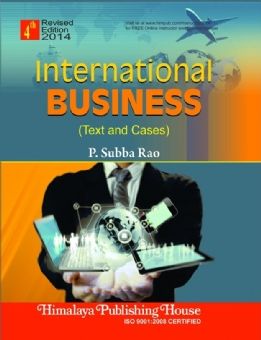 International Business (Text and Cases)-himalaya
The recent globalisation, liberalisation, information technology revolutions, establishment of new international institutions World Trade Organisation and competition brought paradigm shifts in international business in terms of direction, scope and volume. The enlarged international business influenced the economies, cultures, societies and politics of various countries phenomenally.
This book is to provide all latest developments to the readers and enable them to understand concepts, theories, principles and latest developments of international business. This in turn helps readers to acquire new knowledge and skills which would enable them to have better understanding of international business. This text will be useful to students as practicing managers at different levels in various business organisations. This book is also useful to executives and managers of all kind of organisations like business organisations, public organisations, social organisations, non-government organisations (NGOs), political organisations and religious organisations.
The fourth edition of the books covers all significant and recent areas of International Business.
Distinctive Features of the Book :
• Learner-Friendly Approach
• Wide and Comprehensive coverage
• Integrated presentation of the text with boxes, figures, exhibits and tables
• Refreshing modes like points to be remembered, key words and questions
• Numerous examples
• Presents Methods of Case Analysis, Cases and Management Games
• Customised and Lucid Language; and
• On-line student and teacher manuals
Contents :
1. International Business : An Overview
2. Theories of International Trade
3. International Business Environment
4. Country Evaluation and Selection
5. Modes of Entering International Business
6. Foreign Direct Investment
7. Globalisation
8. World Trade Organisation
9. Multinational Corporations
10. Conflicts and Negotiations In International Business
11. International Trade : Policies and Relations
12. Trade Blocks and Business Centres
13. International Business : Size and Growth
14. Global Strategic Management and Business Ethics
15. International Accounting
16. International Finance and Foreign Exchange
Reviews