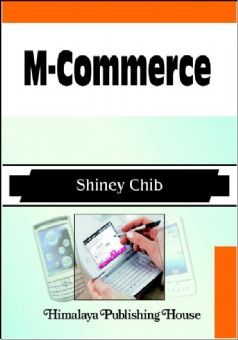 M-Commerce - himalaya
Commerce application deployment. Countries like Japan, South Korea, Singapore, and Hong Kong are adopting the mobile payment system enthusiastically. In Japan and South Korea, major wireless operators like NTT DoCoMo and SKTelecom have successfully implemented M-commerce. Japan has nearly 65% of mobile penetration and now mobile phones are also doubling up as `mobile wallets` (cash and credit cards) combined with services such as GPS and location-based targeting, which are opening new market possibilities with new revenue streams.
M-commerce has the potential to provide huge satisfaction to end-users, generate business opportunities, and provide quick access. There are a number of technologies that enable mobile commerce such as infrared, SMS, interactive voice response, mobile scan and contactless chips. These technologies are transforming the mobile phone into a replacement for petty cash, and debit and credit cards; here the payments are charged either through the mobile phone bill or to the bank account.
Despite all the hype, M-commerce has still not gained speed in the country. The overriding hype and expectation has kind of built a wall around M-commerce. The prevalent assumption is that this service is for the elite, which is not the case. Another area which needs to be dealt with is the issue of security and reliability. The Indian user is still not comfortable with the idea of giving away his debit or credit card number over the phone. Also, security is a major concern for M-commerce to flourish. There are a number of payment options for people such as cheque pick-up, cash on delivery, etc., so the number of people actually paying through cards is not very significant. Security is not a concern technologically; it is just a matter of the mindset that needs to be changed. There are ways such as tamper-proof digital certificates to authenticate the identity of users, for example PIN or passwords. Biometrics such as voice recognition is another area, which can be used to offer greater protection.
Although in a nascent stage, a number of players have ventured into the Indian M-commerce segment. Online Mobile provides services such as movie ticket booking through its voice systems. Playmates have tied up with Citibank to provide SMS-based M-commerce services and Jigrahak has launched a payment platform called "NGpay" for online mobile shopping, to name a few. Telecom service providers such as Reliance and Airtel have been providing services such as bill payments, railway and airline ticket booking, etc. To sum it up, it is evident that the opportunity is immense and mobile commerce can be seen as a potential revenue driver for the industry players. The possibilities are innumerable. Once the pace is set, M-commerce will become the way of life on mobile.
This book is an effort to explain the concept of M-commerce, its growing adaptation, the various hurdles due to which its usage has not gained the momentum, in India. This book can be used as elementary reading as far as M-commerce is concerned. Glossary is included in the last part of this book, which gives the idea about the technical jargons used throughout this book.
Contents :
1. M-commerce - An Overview
2. History of M-commerce
3. Drivers of M-commerce
4. Supporting Technologies
5. Mobile Security
6. M-commerce Applications
7. L-commerce
8. M-commerce - Indian Scenario
9. Limitations of M-commerce
10. M-commerce: Coming of Age
Case Studies
Paper - 1
Glossary
Abbreviations
Reviews