MANDATE: WILL OF THE PEOPLE Author: Vir Sanghvi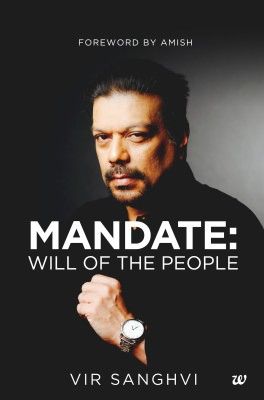 MANDATE: WILL OF THE PEOPLE Author: Vir Sanghvi
About the Book
This is the first easy-to-read book about recent Indian political history. Pegged on the general elections that shaped today's India, Mandate: Will of the People tells the story of Indian politics in a gripping, page-turning style.
Vir Sanghvi, the well-known journalist and TV anchor, draws on his personal experiences and memories as well as scores of interviews to piece together an incisive and candid account of what went on behind the scenes. Peppered with little-known details and insider information, this book tells the stories behind the story and brings alive the men and women behind the headlines.
Mandate: Will of the People contains the real story of the declaration of the Emergency, the rise and fall of Sanjay Gandhi, the Punjab insurgencies, the assassination of Indira Gandhi and the bloody riots that followed her death. It tracks the emergence of Rajiv Gandhi and explains the Bofors scandal that contributed to his defeat.
Many of the questions that linger over Indian politics are answered here: how did Narasimha Rao become Prime Minister? Why did he liberalise the economy? What was the Ram Mandir agitation really about? Why didn't Sonia Gandhi agree to be PM? And how did Manmohan Singh's weakness clear the way for Narendra Modi.
If you have to read one book about Indian politics – then this is it
Reviews