Manual of Extracorporeal Membrane Oxygenation (ECMO) in the ICU-Author:-Poonam Malhotra Kapoor-jaypee brothers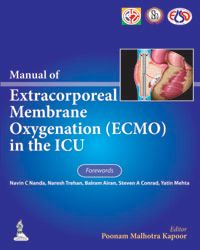 Manual of Extracorporeal Membrane Oxygenation (ECMO) in the ICU-Author:-Poonam Malhotra Kapoor-jaypee brothers
The process of extracorporeal membrane oxygenation (ECMO) for the failing heart and lung is the last straw of hope and life. When all other modalities fail, ECMO offers a ray of sunshine. The presence of ECMO in cardiac ICU brightens up the gloomy atmosphere with E-CPR.

The power of ECMO under ELSO (USA), RVCC (Mumbai) and the largest cardiac series in India at All India Institute of Medical Sciences (AIIMS) has come a long way. It adds years to a shortened life whether you are a postgraduate or intensivist, a perfusionist, a cardiologist, a pediatrician, a cardiac surgeon, a cardiac or general anaesthetist or a nurse, you will find a body of enjoyable and useful information within the cover of this book as ECMO is a teamwork. The 40 chapters in 11 different sections with in this book expound upon our learned knowledge of natures gift to humanity–that of every cell "thriving to live "despite complications" This book is simple reading of a complicated subject. In last 24 years, through various clinical trials, ECMO has been modified by technology and the medical professions ability to discover, synthesize, modify and use this technology has enabled most of us to reach the stage of using advanced ECMO in a simple manner to decrease the morbidity and mortality in the cardiac and respiratory ICU.

The inspiration for this book arose from the desire to enlighten and enstill a greater appreciation of the subject with in the medical fraternity—and to inspire to the physician and the young students to explore more into the fascinating and almost infinite applications of ECMO. For most of the mere, mention of the word "ECMO" conjures up images of tubes, bulky heart lung apparatus and a bleeding patient. The reality of ECMO is far more exciting and rewarding, once these unfortunate and distressing images are dispelled.

ECMO has brought together many medical disciplines. A few other recent technologies have evoked such an impact from its usage in almost all ICU's as has ECMO. Section 10 of this book is a treatise to the reader in the form of multiple choice questions—some with explanation and some without explanation. It will also help in preparing for the examination.
Key Features
• A comprehensive and an easy-to-read book on extracorporeal membrane oxygenation (ECMO) for the first time in India

• Includes topics such as ECMO and sepsis, Infection control in ICU, ECHO and ECMO, ECMO in noncardiac surgery, and ECMO and continuous renal replacement therapy (CRRT), which have not been described in literature with ECMO earlier

• Illustrations with easy-to-understand colored flow diagrams on ECMO hardware and circuit

• Contains more than 1,100 multiple choice questions (MCQs) on ECMO for physicians, examinees and emergency medical technicians, ER personnel and any other healthcare professionals who may be involved in the care of patients undergoing ECMO

• Useful for examinees in all medical branches
Target Audience
Handful guide for intensivists, cardiac anesthetists, cardiologists, pediatricians, perfusionists and surgeons-cardiac and general as it deals with basics of ECMO, complications of ECMO and the future of ECMO with CARDIO HELP.
Si
Reviews