Market Application and Practice-himalaya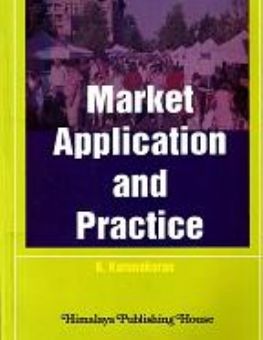 Market Application and Practice-himalaya
This book, Market Application and Practice, addresses these issues fully. In addition to this, man examples picked out from the current Indian marketing scenario are included in the text. The book is profusely illustrated with samples of product offers and advertisements relevant to each topic. These will help you to understand the practical side as you learn the theory.
Market Application and Practice is a core subject for the MMS course of all universities and has to be studied by you in a short span if a semester consisting of about four months. This makes it extremely difficult for you to study different voluminous books (mostly foreign with American examples) and prepare notes according to the university syllabus. What you need is handy, simple textbook that covers all the topics and the full syllabus prescribed by the university, includes all the concepts, and provides suitable examples from the Indian market context.
Written in a capsule form, this book will meet the above-mentioned requirements of the MMS students. It is logically sequenced in tune with the syllabus contents of the MMS course of Biju Patnail University.
Book Content of Market Application and Practice
Strategic Marketing Principles
Understanding the Marketing Environment
Market Segmentation Targeting and Positioning
Buyer Behaviour (Consumer Behaviour)
Preparation of Marketing and Business Plans
Business Marketing (B2B)
Fast Moving Consumer Goods and Consumer Durables Marketing
Consumer Durable Marketing
The New Product Development Process
The Concept of Product Life Cycle (PLC)
Pricing Decision and Strategies
Distribution Decisions
Marketing Communications
Services Marketing
Rural Marketing
Retail Management
Internet Management
Direct Marketing
Reviews