Marketing Research-himalaya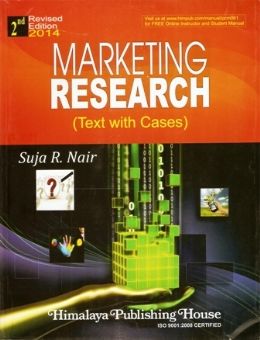 Marketing Research-himalaya
Objectives and Specific Features of the Book
The main objectives and features associated with writing this text book on Marketing Research are:
- To reiterate the importance of gathering marketing information to succeed in the competitive world and how this can be used by an organization to take effective decisions.
- To familiarize all those interested in marketing research, be it today's students or tomorrow's managers / researchers with the* various steps involved in the marketing research process. Such learning will enable them to appreciate the utility of research and take futuristic decisions in an efficient manner.
- Usage of simple and easy to understand language throughout the book.
- Adoption of a macro-micro level approach in the coverage of the various topics, concepts and discussions pertaining to the field of marketing research. This will help readers to gain an easy understanding of all that which goes into a practical oriented research process.
- Most of the important concepts and variables involved in marketing research are explained citing real and practical examples to facilitate the link with actual situations.
- Every chapter commences with a real case discussion relevant to the concepts to be discussed in the chapter.
- Under 'Chapter questions for Discussion', practical oriented exercises are given to enable the reader get a realistic feel of the picture/situation likely to occur while carrying out a study.
- Each chapter ends with a real case study from the industry and when efforts are made to seek answers to the-questions provided, the reader will be able to develop good decision making skills.
Contents :
Part I : Introduction, Decision Support System and Research Design
Chapter 1 : An Introduction to Marketing Research
Chapter 2 : Information, Decision Support System and Marketing Decision Support System
Chapter 3 : Research Design and Marketing Research Process
Part II : Data Collection Methods
Chapter 4 : Sources of Information and Secondary Data Collection
Chapter 5 : Primary Data Collection
Chapter 6 : Sampling, Sealing and Attitude Measurement
Part III : Analyzing Data
Chapter 7 : Editing, Coding and Tabulation of Data
Chapter 8 : Basic Analysis of Data, Cross Tabulation and Hypothesis Testing
Chapter 9 : Tests to Analyse Differences
Chapter 10 : Multivariate Analysis
Part IV : Research Process and Applications of Marketing Research
Chapter 11 : The Research Process
Chapter 12 : Traditional Applications of Marketing Research
Chapter 13 : Popular and Concurrent Application of Marketing Research
Appendices Selected Statistical Tables
Reviews