MS Office XP for Everyone, 1/e SANJAY SAXENA-S.CHAND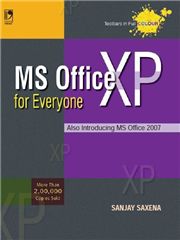 MS Office XP for Everyone, 1/e SANJAY SAXENA-S.CHAND
Part I: Introduction;

Introduction to Computers.
History of Computers.
Basic Anatomy of Computers.

Part II: MS Office

MS Office XP.
MS Office 2007.

Part III: MS Word

Word Basics.
Mail Merge.
Macros.

Part IV: MS Excel

Excel Basics.
Data Sort.
Functions.

Part V: MS PowerPoint
Part VI: MS Access.
Part VII: MS Outlook

MS Outlook.
Toolbars at a Glance.
Reviews