Stock and Commodity Markets-himalaya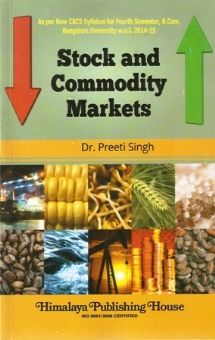 Stock and Commodity Markets-himalaya
This book has been written for introducing the concepts of stocks and commodities. While stocks have gained some familiarity in India commodities market is still a new concept and it is considered to be highly risky.
This book has incorporated the functions of primary and secondary markets showing the investment environment in India. It has also provided the meaning of commodities market and how it is different from stock market.
The book deals with the history, objectives and functions of commodity exchanges and explains the type of brokers that dealt with the different types of trade in a commodities market.
It is a helpful and student friendly book. Since stock in commodity markets has now been developed as a course in many universities this module has been written to suit the requirement of the students and teachers.
This book provides an understanding of developments in stock and commodity markets in India. The following are some of its important features:
1. It gives an overview of the stock market environment in India.
2. It discusses the relationship of Primary and Secondary markets function.
3. It has provided the background and importance of commodities markets in India and in other countries in the world.
4. It has provided the latest information on SEBI.
5. It has devoted a special chapter for discussing the process of trading in a stock market. 6. It explains in detail the different types of trading and settlement of trades in commodities markets.
7. It has given the basic explanation of derivatives like futures and options.
Contents :
UNIT I : AN OVERVIEW OF CAPITAL AND COMMODITIES MARKETS
1. Primary Market And Secondary Stock Market
2. Issue Mechanism In Primary Securities Market
3. Commodities Market
UNIT II : STOCK MARKET
4. Role of Securities and Exchange Board of India
5. Stock Market
6. Derivatives
UNIT III : TRADING IN STOCK MARKET
7. Trading in Stock Market
UNIT IV : COMMODITIES MARKET
8. Commodities Market: Role and Organization
UNIT V : TRADING IN COMMODITIES MARKETS
9. Trading In Commodities Market
Reviews