Team Building and Leadership-himalaya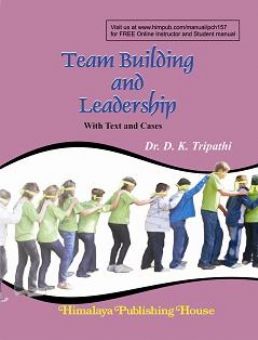 Team Building and Leadership-himalaya
Team Building and Leadership is a comprehensive textbook designed to meet the requirement of management students specialising in HR and HR professionals of industries. Written in a student-friendly style, it focuses on the strategic importance of Team and leadership to achieve the organisational goals and mission. The theory is composed with some corporate examples, exhibits, and illustrations to develop the managerial acumen of students.
This book begins with some snapshot and introduction to the concept of organisation, management, group, team and leadership theories with all the aspects which could add the value and enrich the professional taste to the respective students. Different trends and facts are woven together to highlight business implications for the organisation and how HR leaders can enable their team members to meet some of the challenges and opportunities.
The book aims at preparing students and professional to master the knowledge and skill sets required to effectively manage team and the organisational culture with creativity, innovation, and strategic focus. It encompasses the recent trends in HR with various relevant cases which enable HR professionals to face the upcoming HR Challenges in Globalisation era.
Key features
Provides a strategic orientation to team building and leadership to manage organisation effectively and efficiently.
Includes discussions and practices of various leadership styles.
Contains cases and live examples on various topics.
Every chapter begins with some corporate example.
Book Content of Team Building and Leadership
UNIT I : Management
UNIT II : Organization
UNIT III : Leadership
UNIT IV : Contemporary Leadership
UNIT V : Group and Team
UNIT VI : Transactional Analysis
Unit VII : Case Study
Reviews