Theories of Entrepreneurship-himalaya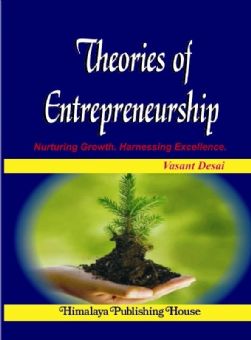 Theories of Entrepreneurship-himalaya
In creating and growing a new venture, the entrepreneur assume the responsibility and risks for its development and survival and enjoy the corresponding rewards. In fact, economic development depends on the allocation of entrepreneurial resource to efforts to discover new profit opportunities.
In the 21st century, entrepreneurship has assumed great importance, globalization on coupled with information technology has given a fillip to entrepreneurship in a big way. Entrepreneurial activities are getting broad-based. All along, there is big leap in employment opportunities and rise in income.
The present study Theories of Entrepreneurship consists of ten Chapters.
In all, FORTY Theories relating to entrepreneurship are presented for the FIRST-TIME in this study.
Theories of entrepreneurship are broadly grouped into:
1. Economic Theories of Entrepreneurship
2. Socio-cultural Theories of Entrepreneurship
3. Motivation of Theories of Entrepreneurship
4. Entrepreneurial Leadership
The theories of entrepreneurship help students and teachers in understanding the varied facets and evolution of entrepreneurship environment fostering and accelerating the growth of entrepreneurs and entrepreneurship activites.
Contents :
1. Introduction
2. The Enterprise
3. The Concept of Entrepreneurship
4. Theories of Entrepreneurship
5. Economic Theories of Entrepreneurship
6. Socio-Cultural Theories of Entrepreneurship
7. Motivation Theories of Entrepreneurship
8. Emotional Intelligence and Effective Leadership
9. Entrepreneurial Leadership
10. Drive Towards Customers Satisfaction
Reviews