Treasury Management in India-himalaya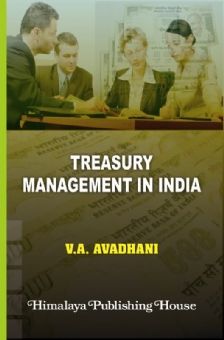 Treasury Management in India-himalaya
Treasury management is a specialized subject in the finance area. It encompasses the funds management and investment management along with the trading operations in the financial markets. The functions of Treasury involve all the above items inter alia. To the extent that the companies have problems of liquidity and solvency − short term and long term − they have the need for Treasury management. This book makes a comprehensive treatment of all related aspects of the Treasury operations. Planning and budgeting and forecasting the funds flows and shortages and surpluses to be taken care of by the Treasury have become a part of this book.
All the operations of the Treasury in the markets and investment management of their portfolios are discussed in this book along with the risk management techniques adopted by them. The various contextual and environment problems to the Treasury have found a place in this book. This is thus a comprehensive treatment of a narrow and highly specialized subject of Treasury management.
All the financial markets are well regulated by RBI and SEBI with good infrastructure, institutional framework, with depth and width in the markets, which makes it a challenge to the Treasury to make efficient operations. The latest policy changes of all the relevant policies affecting the money & capital markets, gilt edged and forex markets etc. have found a place in this book. In the present context of the Indian economy, moving towards globalization, deregulation and privatization, the markets have become more competitive which makes more challenging the task of Treasury manager.
In all the areas that this book is concerned, the material has been updated and many changes have been incorporated to make it more comprehensive and useful to all the readers and students of this subject.
Contents :
Part I - SCOPE AND COVERAGE
1. Introduction to Treasury Function
2. Micro Treasury Operations
3. Scope and Functions of Treasury Management
4. Accounting and Legal Backdrop
Part II - ANALYSIS AND PLANNING IN TREASURY FUNCTION
5. Financial Statement Analysis
6. Corporate Balance Sheet Analysis
7. Finance and Investment Decisions
8. Financial Forecasting
9. Short-term Financial Planning
10. Long-term Financial Planning
11. Internal Treasury Control
Part III - OPERATIONS IN FINANCIAL MARKETS
12. Financial Markets - An Overview
13. Money Market Operations
14. Gilt-Edged Market Operations
15. Forex Market Operations
16. Bank's Balance Sheet Analysis
17. Treasure Management in Commercial Banks
18. Risk Management in Market Operations
19. Impact of Treasury Operations
Part IV - ENVIRONMENT IN TREASURY MANAGEMENT
20. Tax Management and Planning
21. Government Policies and Industrial Regulation
22. Bankruptcy Management
23. RBI Policies and Industry
24. Banking Relationships
25. Managing Investor Relations
26. MIS for Treasury Operations
Bibliography
Reviews